Find Our Beer
Find our beer:  Here is a map of our distribution area, which will help you find our beer.  Our beer is widely available in the orange colored counties on draft at your local bars and restaurants and in bottles at your favorite grocery, liquor and bottle shops.  The yellow area has limited, yet growing distribution.  Here are the accounts in the yellow area as of 2/1/19:
Do you ship beer?  Currently we are unable to ship beer in the state of WI or outside the state.  That said, you can find our beer in limited amounts, from time to time, via Tavour.com in: NY, NM, NV, CO, WA, OR, ID, DC, NJ, PA, FL, NH, CA, OH, TX, KS, & IN along side many other great breweries.
Frequently Asked Questions
We have a group of people coming, can you accommodate us?  We would love for you to join us at the Taproom!  Please contact us below to send us a message so we know you are coming, and can be staffed accordingly to serve you best.  The taproom is small but in the warmer months we do have outdoor seating which helps accommodate larger groups.

Do you have brewery tours?  At this point we don't have brewery tours.  Our taproom (The garage where we serve all of our beer) is located in downtown Algoma and our brewery (where we produce the beer) is located about five miles North of Algoma.  The distance and our small staff are currently limiting factors, we hope to offer tours in the future!
How big is your brewery?  We brew in 15bbl (roughly 465 gallons) stainless steel vessels that were retro-fitted for brewing beer.  Some of the tanks were used in the dairy industry prior to making delicious beer!
Do you have flights/samplers at the taproom?  We do!  We take a "build-your-own" approach to the taster flights here.  Pick one, or pick them all.  We'd love for you to try which ones you are interested in.  The normal offerings are only $2 per 5oz glass, and the higher ABV, barrel aged and specialty beers however, are slightly more.

What is the alcohol content of your beer? Check out Untappd for more information on all our brews!  Likewise, you can see our current taproom brews on our Brews Page.
Is the garage/taproom open year round?  It is!  We are open 7 days a week, and open at noon every day regardless of what month it is.  During the off season (November-April) we close a little earlier during the week, and May-October we are open a little later.  Check out our current hours below.
---
Send Ahnapee Brewery a Message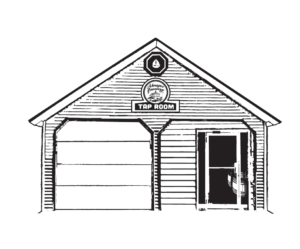 ---
Distribution Log In
Distribution Log In
---
Where to find our brews
Location & Contact Info
Phone:
920-785-0822
Email:
info@ahnapeebrewery.com
Address:
105 Navarino Street
Algoma, WI 54201
Get Directions
Taproom Hours: November-April
Monday

Noon - 7pm

Tuesday

Noon - 7pm

Wednesday

Noon - 7pm

Thursday

Noon - 7pm

Friday

Noon - 10pm

Saturday

Noon - 10pm

Sunday

Noon - 6pm
Certified Independent Craft Brewery